Drive Configuration
The drive configuration window is used to configure new drives and edit existing drives. It can be accessed by clicking the New... button in the Drives tab or clicking the Edit... button when a drive is selected in the drive list. Drive-specific configuration for example, the connection settings, the drive name, the drive selection settings, and the startup behavior are specified in this window (additional configuration can be specified in the Advanced tab).
Please be aware that configuration changes will not take effect until you click the Save Changes button in the S3 Drive toolbar, which will save the settings to the Windows registry.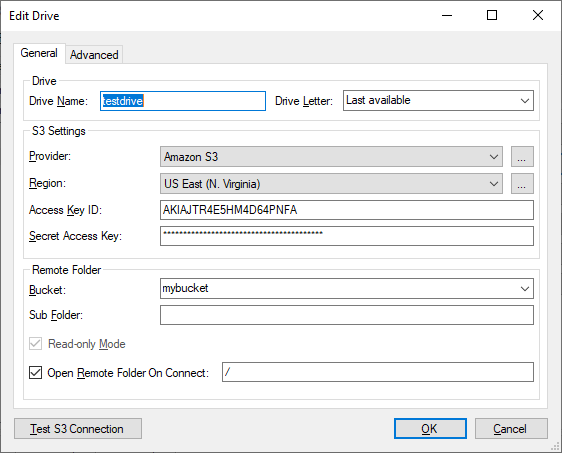 Adding a Drive
To add a drive, click the New... button on the Drives tab of the main window.
Enter a name for the drive in the Drive Name field, and if needed, choose the desired drive letter. This will be the drive letter where the remote file system will be mounted.
Select the storage provider, such as Amazon S3.
Enter your access key in the Access Key field.
Enter your secret key in the Secret Key field.
Use the Bucket dropdown list to select the desired bucket.
The Test S3 Connection button will verify the connection to the S3 provider can be successfully established. When configuration is complete press OK to complete the drive configuration.
Optional Settings:

The Region field shows the current bucket's region and may optionally be set. In most cases there is no need to modify this value.
The Sub Folder setting may optionally be set to a folder within the bucket to be used as the drive root. For instance MyPictures/Birthday. This setting is not required.
Open Remote Folder On Connect specifies which folder to open in Explorer when the drive is mounted (if any). If set, each time the drive is connected an Explorer window will open at the specified path. Uncheck this box to disable this functionality.
After clicking OK the drive will be added to the drive list. Use the Advanced Settings to set additional configuration settings at the drive level and at the global level.
Provider and Region Management
The ... buttons next to the Provider and Region settings open a separate dialog to manage the available list of providers and their supported regions. When using custom providers, for instance MinIO or Ceph, this dialog may be used to add the necessary connection information. This dialog may also be used to add new regions to existing providers. For more details see the Provider Management page.