Drive Configuration
The drive configuration window is used to configure new drives and edit existing drives. It can be accessed by clicking the New... button in the Drives tab or clicking the Edit... button when a drive is selected in the drive list. Drive-specific configuration for example, the connection settings, the drive name, the drive selection settings, and the startup behavior are specified in this window (additional configuration can be specified in the Advanced tab).
Please be aware that configuration changes will not take effect until you click the Save Changes button in the SFTP Drive toolbar, which will save the settings to the Windows registry.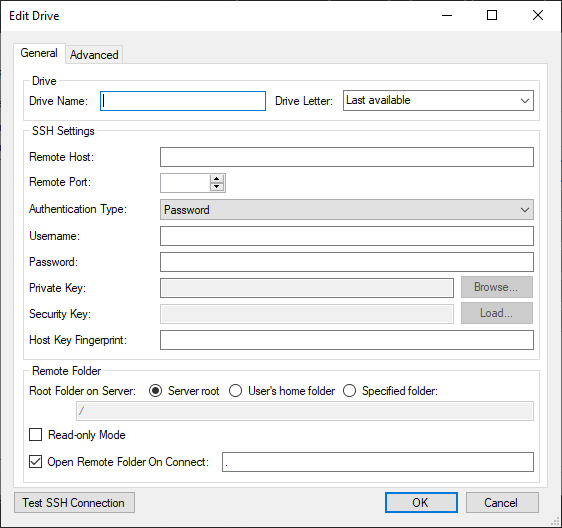 Adding a Drive
To add a drive, click the New... button on the Drives tab of the main window.
Enter a name for the drive in the Drive name field, and if needed, choose the desired drive letter. This will be the drive letter where the remote file system will be mounted.
Enter your server's address and port in the Remote host and Remote port fields.
Enter your username in the Username: field.
Use the Authentication Type drop-down menu to choose the type of authentication and provide the corresponding credentials (see Authentication for more information).
The Remote Folder section provides additional options to use when connecting to the remote file system.

Root folder on server specifies which folder on the SFTP server should be treated as the root of the local drive when mounted.
Read-only mode tells the application whether to mount the drive in read-only mode.
Open Remote Folder On Connect specifies which folder to open in Explorer when the drive is mounted (if any). If set, each time the drive is connected an Explorer window will open at the specified path. Uncheck this box to disable this functionality.

The Test SSH Connection button will verify the connection to the SFTP server can be successfully established. When configuration is complete press OK to complete the drive configuration.
After clicking OK the drive will be added to the drive list . Use the Advanced Settings to set additional configuration settings at the drive level and at the global level.